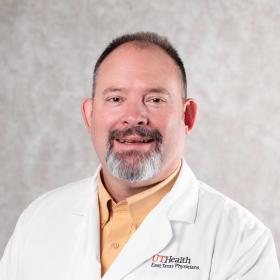 Physician Group:
UT Health East Texas Physicians
Practices At:
Hours:
Monday -Thursday 
8 a.m. - 5 p.m.
Friday 
8 a.m. - 12 p.m.

Roger Pearce, MD, is a board-certified internal medicine physician at UT Health East Texas Physicians at Hideaway Lake and North Campus Tyler. Dr. Pearce said he feels he was called to the medical profession with the goal of helping those affected by various medical ailments. He chose to specialize in internal medicine because the scope of practice is so wide.
"Like many physicians before me, I was influenced by a great practitioner who happened to be an internist in a rural setting," Dr. Pearce said. "I too could see myself caring for patients in a rural setting, which I have done in various iterations over my 19 years as a physician."
Dr. Pearce believes that listening to his patients is the most important thing he can do. "Listening to what my patients are telling me seems obvious, but I hear over and over again from new patients saying 'My doctor doesn't listen to me.' They know I truly care for them when they feel they have been heard." 
When not seeing patients, Dr. Pearce enjoys spending time with his family outdoors on the lake fishing, skiing, tubing and swimming. He is an avid hunter and looks forward to his hunting adventures in East Texas.
Board Certifications:
American Board of Internal Medicine, Board Certification
Education:
Residency: Internal Medicine, University of North Dakota, Fargo
Doctor of Medicine: Ross University School of Medicine, Commonwealth of Dominica
Bachelor of Science: Health Science, University of Nevada, Reno
Christian Medical and Dental Associations, Member