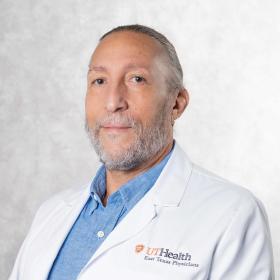 Joel Marcus, PsyD, is a clinical psychologist who sees adult patients at UT Health East Texas Behavioral Health at North Campus Tyler. Dr. Marcus offers psychological care including psycho-oncology, patient-centered communication, value clarification, palliative care, hypnosis and mind-body interactions and meaning-centered therapy. As a health psychologist, he helps identify patients' strengths and challenges in the context of their illnesses, while focusing on the interaction between the mind and body and how the mind can affect quality of life.
"I try to view the patient in a holistic perspective, seeing where they are physically, emotionally and spiritually. I believe that patients, no matter how significant their challenges, have personal strengths that can improve their quality of life. It is my job to help them discover and use those strengths."
He emphasizes the importance of seeing patients as individuals with hopes and dreams that physical illnesses have disrupted, and that in spite of illness, patients and families can appreciate life and relationships.
When not seeing patients, Dr. Marcus enjoys his dogs, traveling, gardening and physical fitness.
Education:
Fellowship: Psychological Hypnosis and Mind Body Medicine, Texas A&M University Health Science Center College of Medicine, Temple
Fellowship: Clinical Health Psychology, Texas A&M University Health Science Center College of Medicine, Temple
Internship: Clinical Psychology, Jesse S. Goodman Psychological Services Center, Carlos Albizu University, Miami
Doctor of Psychology: Clinical Psychology, Carlos Albizu University, Miami
Master of Arts: Mental Health & Substance Abuse Counseling, St. Mary's University, San Antonio
Bachelor of Science: Psychology, Missouri Valley College, Marshall
American Psychosocial Oncology Society, Fellow
American Society of Clinical Hypnosis, Fellow