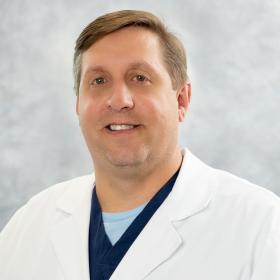 4.8 out of 5
Physician Group:
UT Health East Texas Physicians
Practices At:
2210 Three Lakes Parkway
Ste. 100
Hours:
Monday - Friday 
7:30 a.m. to 5 p.m.

Bryan Hyland, MD, is a board-certified family medicine physician who believes health education is an important part of his practice. "Each time someone comes in, I try to spend a few minutes teaching, whether it's about medications, diseases or maintaining good health, depending on the needs of each patient."
Dr. Hyland also feels that it's very important to develop relationships with his patients. "In family medicine, you act as a counselor and a friend. It gives me great opportunities to know my patients really well."
While completing his residency in Tyler, Dr. Hyland became so impressed with the community's dedication to family values that he decided to stay. He practiced at UT Health East Texas Physicians South Broadway before moving to the Three Lakes location. "At this clinic, we are able to take care of most healthcare needs."
Dr. Hyland earned his bachelor's at Brigham Young University in Provo, Utah, and his doctorate of medicine at The University of Texas Medical School in Houston.
Board Certifications:
American Board of Family Medicine, Board Certification
Education:
Family Medicine Residency: The University of Texas Health Science Center at Tyler
Doctor of Medicine: The University of Texas Medical School, Houston
Bachelor of Science: Brigham Young University, Provo, Utah
American Academy of Family Physicians, Member
Texas Medical Association, Member
American Medical Association, Member
Smith County Medical Society, Member
Texas State Board of Medical Examiners, License
Drug Enforcement Agency, License