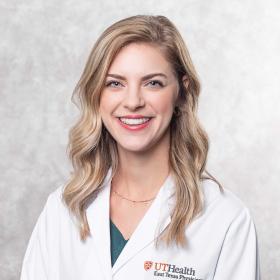 Physician Group:
UT Health East Texas Physicians
Practices At:
Hours:
Monday - Friday 8 a.m. - 5 p.m.
*Age Range: Six months old and up
Anna Fenton, APRN, FNP-C, is a family nurse practitioner who sees patients 6 months and older at UT Health East Texas Physicians on South Broadway in Tyler. She is passionate about helping others, which led to her career in healthcare. "I pursued healthcare because I truly wanted to be able to help people in a practical and physical way, which I believe opens the doors to helping them emotionally and spiritually as well."
She chose family medicine as a way to provide ongoing care for the whole family. "I treat my patients the way I would like to be treated if I were in their place. I want them to know that I am actively listening to them. Then, my aim is to provide evidence-based treatment options to enable them to make the best decisions for their health and future."
Anna enjoys spending time with family and friends, outdoor activities and reading. She is also an active member at her church where she sings, plays keyboard, leads the young adult ministry and assists with preschool classes.
Board Certifications:
American Academy of Nurse Practitioners, Certification
Education:
Master of Science: Nursing, The University of Texas at Arlington
Bachelor of Science: Nursing, The University of Texas at Tyler
Associates Degree: General Studies, Tyler Junior College
DAISY Award, Recipient
Honorsociety.org, Member
Phi Theta Kappa Honor Society, Member