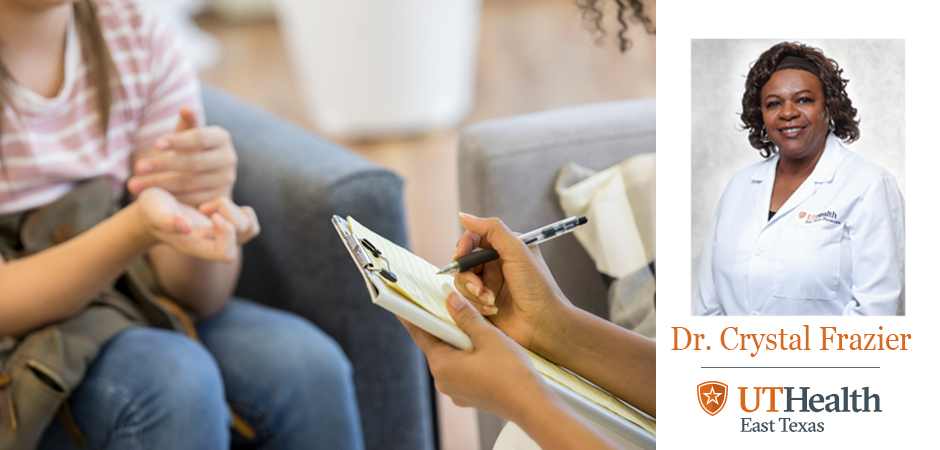 Minority Mental Health Month was established in July of 2008 by Mental Health America (MHA) to bring awareness to the mental health of minority groups in the United States. The Centers for Disease Control and Prevention (CDC) reports that according to the 2010 U.S. Census, approximately 36 percent of the population belongs to a racial or ethnic minority group.
According to Mental Health First Aid, depression was widely reported as the most common mental health condition across all minorities. Mental Health First Aid reports that Puerto Ricans reported the highest rate of depression, at 40 percent. All other Hispanic groups ranged from 30.8 (other Hispanic) to 34.5 percent (Cuban). Our highly-skilled team is available to treat mental health conditions at UT Health East Texas. Our team includes access specialists, nurses and a number of psychiatrists who are dedicated to helping patients.
Dr. Crystal Frazier, a licensed psychologist at UT Health and assistant professor in the Department of Psychiatry and Behavioral Medicine, spoke with us about the mental health care available at UT Health East Texas, why she pursued a career in healthcare and the different ways the UT Health team is serving the community when it comes to mental health care.
The University of Texas Health Science Center at Tyler (UTHSCT) is the only university medical center in the Northeast Texas region. "The Behavioral Health Center is staffed with a team of dedicated mental health care providers, nurses and administrative personnel who provide comprehensive and compassionate outpatient services to all patients who present to the center," Dr. Frazier says.
Frazier notes that the shortage of mental health care professionals and access to healthcare are notable challenges faced by many of the patients in the region. UT Health East Texas has created a solution to this with the use of tele-health. "Our capacity to provide mental health services in the Behavioral Health Center and remotely via tele-behavioral health is enhanced even further because of the range of patient care services provided as part of our fully accredited psychiatry residency and predoctoral psychology internship programs," Dr. Frazier shares.
"The Behavioral Health Center is excited about expanding our tele-behavioral health efforts to outlying UT Health clinics and hospitals which allows provision of routine and emergency mental health services to patients remotely," Dr. Frazier explains. This has been a huge breakthrough in helping patients in East Texas with less access to resources, especially transportation.
Dr. Frazier shares that her interest in psychology and behavioral health began midway through her 25-year career as a health scientist at the Centers for Disease Control and Prevention in Atlanta, Georgia.
"Throughout my career, I was exposed to and had opportunities to gain knowledge in varying public health focus areas including mental and behavioral health. Over several years, I began to notice I would favor and was drawn to topics on mental health, primarily women's and minorities' mental health, and addictions," Dr. Frazier says. After discussing with her valued friends, family and colleagues, Dr. Frazier decided to return to college to seek a doctoral degree in psychology and obtain a license to practice.
"My role as a clinical psychologist and assistant professor entails a broad range of responsibilities including serving as a mental health care provider, the training director for our psychology postdoctoral fellowship program and the associate training director for the psychology internship program," Frazier shares. She adds that her role includes psychotherapy sessions with patients, conducting psychological evaluations for patients and managing or assisting with the day-to-day operations of the psychology training programs, as well as participating in events across Northeast Texas focused on mental health awareness and education.
"Some of the most common conditions treated across the life span include depression, bipolar depression and anxiety disorders. Depression and anxiety are among the most common mental health conditions in the United States and can arise at almost any age," Dr. Frazier says. Frazier notes that if left untreated, depression and anxiety can worsen and become debilitating. The most severe cases may require hospitalization for stabilization and intensive treatment.
To learn more about mental health care available at UT Health East Texas, call Dr. Frazier at 903-877-7168 or visit https://uthealthnorth.com/services/behavioral-health to learn more.