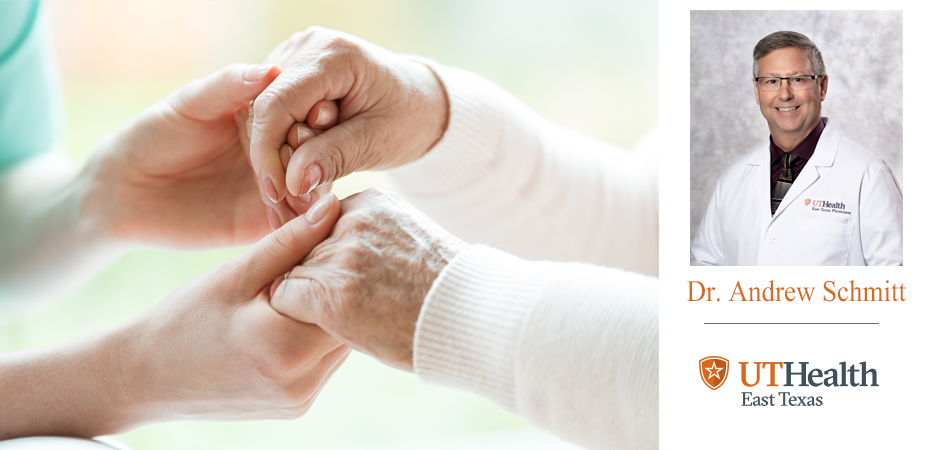 Nationally, June is recognized as Alzheimer's and Brain Awareness Month. According to the Alzheimer's Association, 5.8 million Americans are living with Alzheimer's disease. UT Health East Texas has a robust team of caregivers dedicated to the care of Alzheimer's patients. Dr. Andrew Schmitt, neuropsychologist at UT Health East Texas, shares about the care available at UT Health and why he enjoys caring for geriatric patients.
"One of the most important aspects of providing good patient care in the area of dementia is to make an accurate diagnosis. There are other medical conditions that can mimic Alzheimer's disease and medical professionals are trained to recognize and understand the differences," Dr. Schmitt says.
UT Health East Texas houses a specialized unit known as the Center for Healthy Aging. "The doctors and other health providers in this center are trained in the diseases and conditions associated with aging," Dr. Schmitt adds. The center has a board certified gerontologist, who performs a detailed medical exam and lab work to rule out other medical conditions.
"As the neuropsychologist, my job is to determine the patient's level of cognitive function based on their performance on a series of tests. We often request brain imaging conducted by our radiologists to better understand the current structural status of their brain," Dr. Schmitt shares. He adds that if a patient is diagnosed with Alzheimer's disease or another type of dementia, care doesn't stop there. "We offer regular follow-up visits to observe any progression of the illness. We offer counseling for the patient and/or family members. I also am in regular communication with important resources in the East Texas community that also provide care services to patients and their family," he explains.
Dr. Schmitt first became interested in treating geriatric patients as part of his doctoral training. He was assigned to work on the geriatric unit at the Dallas Veterans Affairs Hospital in Dallas in 1998. "At that time, most of my patients were once young men and women from the World War II era," Schmitt shares. He was humbled by his patients' experiences and the vast wisdom they had accumulated over their lifetimes.
"I loved listening to their stories and learning about their life's journey. After completing that internship, I continued to seek out additional opportunities to work with older adults. Although that generation of patients has since passed on, I still love working with older adults and enjoy becoming a small part of their lives," Dr. Schmitt explains.
In seeing patients with Alzheimer's disease, Dr. Schmitt has interacted with a lot of patient caregivers. When thinking about how you can be an effective caregiver for a loved one with Alzheimer's disease, Dr. Schmitt recommends first, taking good care of yourself. "Caring for someone with dementia can be mentally, physically and emotionally exhausting. Your loved one needs you during this time and you are a special person for providing this care," he adds.
Dr. Schmitt recommends connecting with a community of caregivers because if you are not able to take care of yourself and your own emotional and physical needs, you won't be able to be an effective caregiver for long. "I always recommend my friends at the Alzheimer's Alliance of Smith County because they have specialized programs and advice for caregivers that can assist you along with the journey," he says.