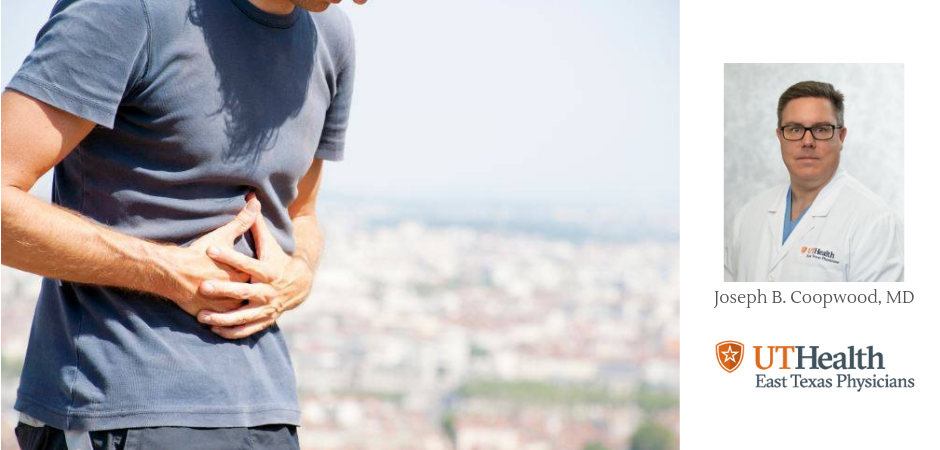 June is Hernia Awareness Month and UT Health East Texas is providing a special focus on this common condition. Over one million abdominal wall hernia repairs are performed annually in the United States. The financial burden and loss of productivity due to time missed from work is significant.
Hernia may be defined as a protrusion or bulge of abdominal tissue or organs through a weakness or defect in the abdominal wall. This manifests itself in a visible bulge at the hernia site that may increase with abdominal straining or pressure. The bulge may be pushed back in and could be painful. Hernias may occur in several locations such as the groin, umbilicus (belly button area), femoral area and upper abdomen. Hernias may also develop in areas of previous abdominal surgery, called incisional hernias.
There are several risk factors for hernia. This includes anything that causes increases in abdominal pressure. Obesity, chronic cough (ie. smoker's cough), straining at urine or stool, heavy lifting, previous abdominal surgery and chronic obstructive pulmonary disease (COPD) all may predispose to hernia formation.
Hernias are not generally life-threatening, however, complications can occur. Sometimes, abdominal organs (usually bowel) or tissue may become entrapped in the hernia and cannot be pushed back in or reduced. This is called incarceration of the hernia and requires timely intervention. If untreated, incarceration may lead to strangulation which is an emergency requiring immediate surgical treatment to prevent tissue loss and infection. Fortunately, these complications are not as common as previously believed.
Small, non-painful, reducible hernias may be safely observed under a physician's care. However, the vast majority of abdominal wall hernias will need surgical repair. This is usually an outpatient procedure and may range from a simple tissue repair with the use of a mesh patch to extensive abdominal wall reconstruction. Open surgery and minimally invasive techniques are available. Your surgeon will discuss with you the various options of treatment.
If you believe you may have a hernia, please contact your primary care physician or nurse practitioner for a surgical referral.
Information provided by:
Joseph B. Coopwood, MD, FACS