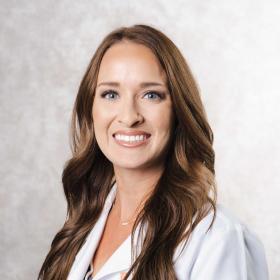 Practices At:
100 Municipal Dr. Ste. 300
Gun Barrel City
,
TX
75156
Hours:
Monday - Friday 8AM - 5PM
Savannah Stone-Atkins, APRN, FNP-BC, is a primary care provider at UT Health East Texas Physicians at Cedar Creek Lake who sees patients of all ages. She believes quality healthcare is the result of a relationship built on mutual respect and trust. "I strive to provide compassionate, patient-centered care with a holistic and individualized approach," she said. "I believe every patient deserves access to quality healthcare with their own personal values and beliefs taken into consideration."
Savannah chose a career in healthcare after injuries sustained in a motor vehicle accident left her hospitalized for two months. "During those two months, I received care from many doctors, nurses, physical therapists and other hospital staff that showed me true compassion and took wonderful care of me," she said. "Shortly after, I knew that I wanted to be able to give that same care and compassion to others and pay it forward."
She chose to focus on family medicine to help patients better manage chronic illnesses. "I believe family medicine is the foundation of healthcare," she said. "If we can identify and manage disease/illness at the primary level, we can prevent worsening disease, prevent hospitalizations and improve a person's quality of life."
When not seeing patients, she enjoys kayak fishing, hiking, hunting and traveling with her husband and five children.
Board Certifications:
American Nurses Credentialing Center, Certification
Education:
Master of Science: Nursing, Texas Woman's University, Denton
Bachelor of Science: Nursing, Texas Woman's University, Denton
Associate of Arts: Trinity Valley Community College, Athens
American Nurses Association, Member
Emergency Nurses Association, Member