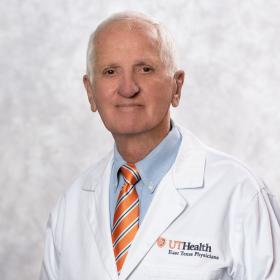 Online Scheduling
<! –– no link, no button ––>
Physician Group:
UT Health East Texas Physicians
Practices At:
Hours:
Monday - Friday
8 a.m. - 4:30 p.m.
Paul Rountree, MD, is an occupational and environmental medicine physician at UT Health East Texas Physicians at North Campus Tyler. 
Dr. Rountree has been actively engaged in occupational medicine practice for almost 50 years.  He has consulted with many companies and previously was appointed Acting Director of the Division of Toxicology and Environmental Health at the University of Arkansas for Medical Science. He was also appointed occupational medicine consultant to the Arkansas State Health Department.  
He worked as Gulf Coast Regional Medical Director for Union Carbide Chemicals and Plastics Company from 1989 until 1993. 
Dr. Rountree is board-certified in Preventive Medicine (Occupational Medicine) and has been active as a member or Fellow of the American College of Occupational and Environmental Medicine (FACOEM) for over 30 years.
He was a full time faculty member in the Department of Occupational and Environmental Health at the University of Texas Health Center in Tyler (UTHCT) from 1994 until 2006, then retired as the Houston Endowment Distinguished Professor of Environmental Science.  During that time he contributed numerous articles in medical journals, book chapters, and edited a variety of occupational medicine texts.  He also served on the 2006 National Institute for Occupational Safety and Health (NIOSH) On-Site Review Panel.
Dr. Rountree served as a medical officer in the US Navy, and retired as a Captain in 2008 with 26 years of military service.  
He worked for ExxonMobil Corporation as an Occupational Health Manager and subsequently was the Assistant US Occupational Health Manager (2006-2017).
He returned to UTHCT as Professor and Interim Department Chair in July of 2017 and was named Associate Dean of the School of Community and Rural Health in January of 2019.