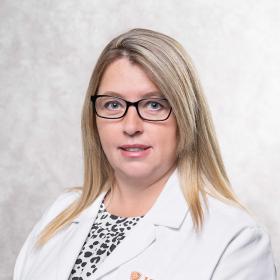 Practices At:
100 Municipal Dr. Ste. 300
Gun Barrel City
,
TX
75156
Hours:
Monday - Friday 8AM - 5PM
Carrie Pedersen, APRN, FNP-C, is a primary care provider at UT Health East Texas Physicians at Cedar Creek Lake. "I want to provide excellent care to both patients and family members by involving both in patient-centered care with an open mind and compassion," she said.
Carrie decided to become a nurse in her early 20s. After having several personal encounters with medical professionals, she knew she had to give back. "If I have a positive impact on just one life a day, I feel I am accomplishing what I set out to do." She chose to focus on family and internal medicine to help patients better manage chronic illnesses through education. "I want to teach patients how to prevent and control diseases like diabetes and hypertension," she said.
In addition to chronic disease management, Carrie also provides well woman screenings, well child exams and treatment for acute illnesses.
When not seeing patients, she enjoys camping and fishing with her family and coaching soccer.
Board Certifications:
American Association of Nurse Practitioners, Certification
Education:
Master of Science:
Nursing,
Walden University,
Minneapolis
Associates Degree:
Nursing,
Trinity Valley Community College,
Athens