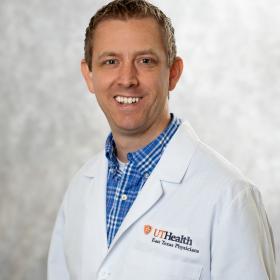 5.0 out of 5
Specialty:
Family Medicine
Urgent Care
Physician Group:
UT Health East Texas Physicians
Practices At:
Hours:
Monday - Friday
8 a.m. - 6 p.m.
Saturday
8 a.m. - Noon
Walk-ins Welcome!
Dr. McMullen sees patients newborn and older.
Other providers see 6 months of age and older.
Adam D. Switzer is a board-certified family nurse practitioner at UT Health East Texas Physicians in Mineola. "It is very rewarding when you get reports back from your patients and they say 'I feel so much better!'"
Working as a nursing-home aide in high school, and later becoming a paramedic, is what increased his interest in working as a nurse. In addition, Switzer's training as a nurse has helped him serve and educate patients on mission trips to Mexico, Honduras, El Salvador, Haiti and Guatemala.
At home or abroad, he believes a provider should always be able to tell patients the unvarnished truth about their health. "You need honesty - having the guts to be honest enough to tell them what they need to hear."
Board Certifications:
American Academy of Nurse Practitioners, Certification
Education:
Master of Science: Nursing, The University of Texas at Tyler
Bachelor of Science: Nursing, The University of Texas at Tyler
Associate Degree: Kilgore College, Kilgore
Congressional Record Commendation, Award
Presidential Volunteer Service Award, Five-Time Award Winner
East Texas Nurse Pracitioner Association, Member
Sigma Theta Tau International Honor Society of Nursing, Member
First Baptist Church of Mineola, Member